Overview of CareConnect profiled resources that include the Dosage structure
Important: This guidance is under active development by NHS Digital and content may be added or updated on a regular basis.
Note: This page provides implementation guidance, background and context for use of Dose Syntax within CareConnect medication resources.

Implementation guidance for use of the medication resources themselves will be contained in forthcoming use-case specific Implementation Guides.
This implementation guidance applies to four CareConnect profiled resources that contain the same two structures;
Each contain two common structures;
Use of the STU3 Dosage datatype
The STU3 Dosage datatype is detailed in the HL7 FHIR specification and in the Dosage Structure section of this document.
Referencing a CareConnect-Medication-1 profiled resource
A reference to a CareConnect-Medication-1 resource can be implemented in three ways;
As an internal reference known as a "contained resource" where the resource is embedded inside the parent resource. This pattern is strongly discouraged in FHIR-based systems. It is used as the basis of examples here only to give clear, compact illustrative examples.
As an internal reference to a resource defined elsewhere within a FHIR bundle. Use this when an implementation requires the use of a bundle, for example NHS Digital Transfer of Care.
As an external reference to a RESTful API that would return a resource. This is the preferred pattern for referencing in production systems.
Contained resource
FHIR bundle
External reference
Use of the different dm+d concepts
All references to medication must use the NHS standard of dm+d, which is published as an independent terminology product using XML format data as well as being included in the SNOMED-CT UK Drug extension.
The dm+d code used within a medication resource will vary depending on the level of detail required by the prescriber. The most generic instruction would specify a Virtual Therapeutic Moiety (VTM) plus a dosage instruction. The most specific instruction, for the purposes of prescribing, would specify an Actual Medicinal Product (AMP) plus a dosage instruction.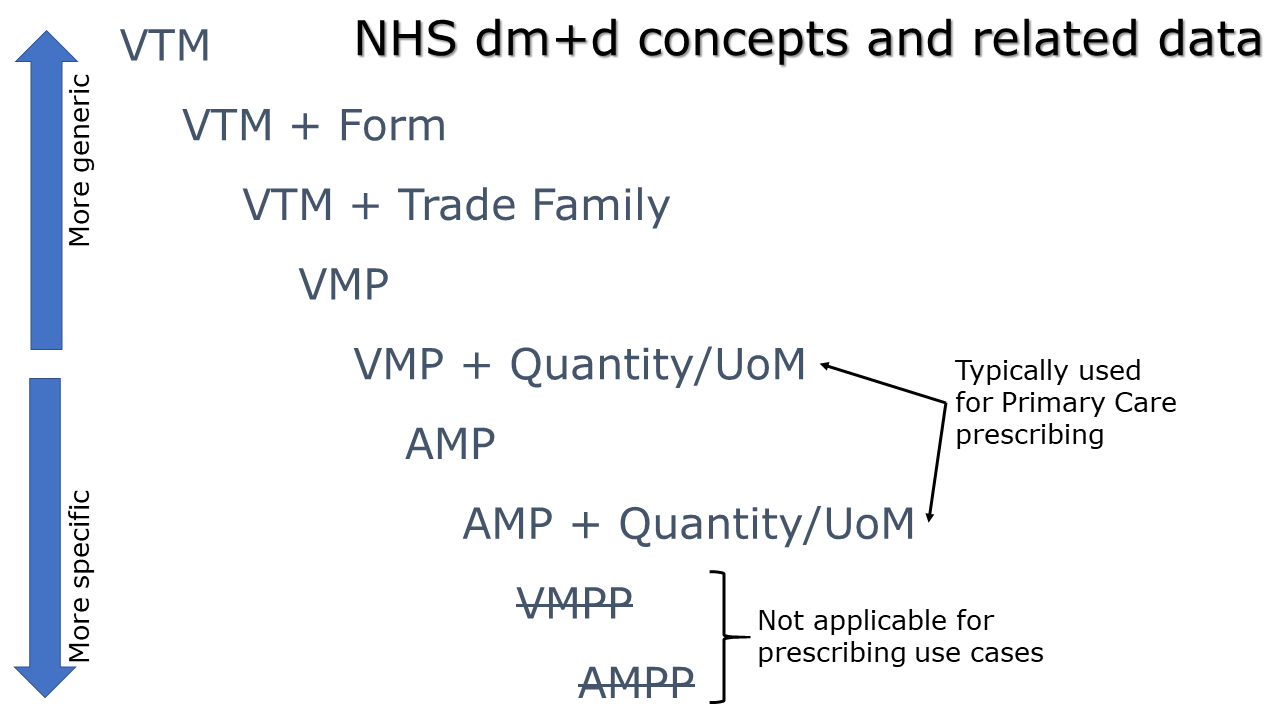 VTM
The most generic representation of a medicine using only a Virtual Therapeutic Moiety (VTM) dm+d concept.
VTM plus Form
A coded form can be defined along with a Virtual Therapeutic Moiety (VTM) dm+d concept where the clinician does not want to be specific with a product-based instruction.
VTM plus Trade Family
Important: Trade Family coded concepts are not currently supported within FHIR profiles. Where a Trade Family needs to be specified, use an Actual Medicinal Product (AMP) concept.
The use of a VTM with a Trade Family is a use case not currently supported within FHIR STU3, or through a UK extension. There is currently no part of the Medication resource that is suitable to convey a SNOMED coded Trade Family. This includes the "manufacturer" which is a reference to a CareConnect-Organization-1 structure that is used for organisational contact details such as name, address, ODS code etc. opposed to a SNOMED coded Trade Family.
VMP or AMP
A Virtual Medicinal Product (VMP) or Actual Medicinal Product (AMP) coded concept. Both are pre-coordinated SNOMED-CT coded concepts. A VMP comprises of a medication + strength + form. An AMP may use either the same medication term as the parent VMP or use a 9191801000001103 Trade family (product) for the medication name. An AMP also defines the manufacturer.
Virtual Medicinal Product (VMP) Example
Actual Medicinal Product (AMP) Example